JR CrossFit – Competitors Class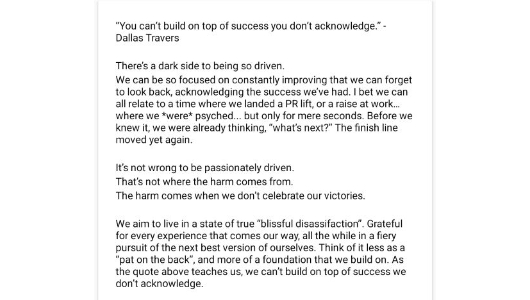 Mobility
2 mins on any machine

into…

Upper Body

1. Banded Shoulder Distraction- 1 min e/s

2. Banded Triceps Stretch- 1 min e/s

3. Barbell Forearm Smash- 1 min e/s
Lower Body

1. Bottom Squat Hold- 2 min

2. Banded Hamstring Distraction- 1 min e/s

3. Pigeon Stretch- 1 min e/s
Activation:

3 rds for Quality

:45 Bike (Increase intensity e/rd)

10 alt single DB DL

5 strict T2B

3 Empty Bar Bear Complexes
()
()
()
Metcon (No Measure)
Workout 1

Stamina Squats

On the Min x 14 (7 rds):

Min 1- 2 Front Squats

Min 2- 4 Back Squats
Stimulus: Single BB, loaded throughout at 72% 1 RM Front Squat
Metcon (No Measure)
Workout 2:

Oly Technique

Repeating the complex from last week- and increasing by 10% on all sets
6 sets:

Snatch Deadlift to Knees

Snatch Deadlift to pockets

Snatch Pull

2 Power Snatches
Rest as needed btw sets. Complexes do not need to be UB. Move with a purpose.
Stimulus: 1 RM

Set 1: 50%

Set 2: 55%

Set 3: 60%

Set 4: 65%

Set 5: 70%

Set 6: 75%
Focus still remains on our positioning, with diligent effort on our bar path off the floor.
Metcon (No Measure)
Workout 3:

Tempo Snatch Deadlift

3 sets:

2 Tempo Snatch Deadlift
Tempo: 5 sec Concentric, 5 sec Eccentric
Stimulus:

All % based off 1rm Snatch

Set 1: 80%

Set 2: 85%

Set 3: 90%
Loaded with heavier weights than in the previous parts. Move through the bar path slowly and deliberately. This is strength work.
Metcon (AMRAP – Rounds and Reps)
Workout 4:

"Eighteen Wheeler"

AMRAP 18 min

18/15 Cal Erg Bike

15 Wallballs (20/14)

12 Alternating DB Snatches (50/35)

9 T2B
Stimulus:

Light and Fast

Aim is UB sets from the start to finish, with the bike being the pacer.

Today is an excellent day to hone in on Pacing. Check in with ourselves at the halfway marl (9.00 Mins) so that we have some data points to reflect at when the workout is over.